DaVinci Wine Cookbook: page 10 [of 10] Chianti Wine Jelly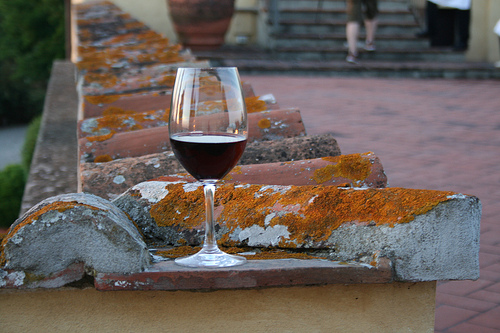 THANK YOU.
I adored absorbing this holiday in Tuscany, courtesy of DaVinci Wines. Each of the Storytellers experienced the food, wine, people and tours through a different lens. My lens is 'Culinary Arts'; I am a Seattle-based cooking instructor, urban farmer and food blogger (Talk of Tomatoes). Piles of recipes with photos are how I hope to extend this experience---and the spirit of DaVinci Wines---with each of you.
AND as a special thanks to DaVinci and a fun bonus to you (and because I really couldn't help myself): I attempted to capture the essence of this journey in a jar.  (I like to visualize a video of DaVinci Chianti being poured into a jar… then turning into this exquisite jelly):
Chianti Jelly
3 1/2 cups DaVinci Chianti 1/2 cup fresh lemon juice 1 package Certo liquid pectin 4 1/2 cups white sugar
Combine wine, lemon juice, and sugar in a large sauce pot. Bring to a rolling boil, stirring frequently. Add pectin, stirring to blend. Return to a rolling boil. Boil hard 2 minutes, stirring constantly. Remove from heat. Skim foam off top, if necessary. Ladle hot jelly into hot, sterilized jars, leaving 1/4 inch head space. Tighten 2 piece lids. Process for 10 minutes in boiling water bath. Note: Chianti jelly is ideal on crackers with goat cheese, alongside a hearty Cambazola cheese or with sliced pork or lamb.
*this cookbook was produced for DaVinci Wines; they kindly sponsored a trip to Vinci, Italy for 4 Storytellers---I was the 'Culinary Storyteller.' While I was not paid to go on the trip (well in experience "dollars" YES!), DaVinci Wines paid for the trip. Yet as is always the case: all opinions, recipes and insights are my own.