DaVinci Wine Cookbook: page 9 [of 10] DOLCI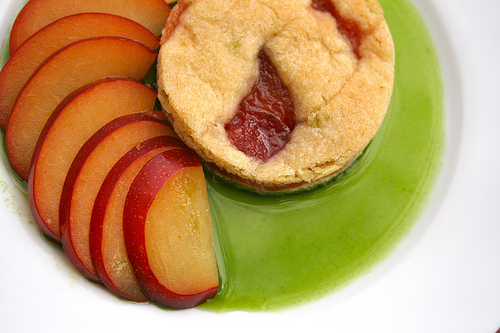 Dolci. Dessert in Tuscany is often a simple cake, a fruit tart or cookies. Chocolate shows up too, but my experience with dessert is beverage-forward: Grappa or Vin Santo (sweet white wine) and always espresso. Once you have the drink down and are wholly satiated on the aforementioned multi-course meal, dessert is more of an excuse to stretch time and good conversation than showcasing multi-tiered dessert cakes or layers of specialty sauces. In fact, dessert is often a simple citrus or olive oil cake, peaches in wine or a humble tiramisu. And sweet is not always the goal; desserts may angle toward creamy (panna cotta, tiramisu, crème brulee) or simple (cookies, gelato, sorbet or watermelon). Add some grappa, some espresso and your meal lingers that much longer.
Chef Anna's Jam Tart
1 cup sugar ¾ plus 2T butter, room temp. 2 eggs and 1 yolk 2 c. flour 1 tsp baking powder pinch salt zest of one lemon jar of favorite jam (I used apricot on one, and plum peach ginger on another)
Blend sugar and butter until double in volume and light yellow (by hand takes awhile; you can use a kitchen aid). Blend in eggs. Add flour, lemon zest, salt and baking powder, mixing just to blend. Set 1/3 of dough aside; press 2/3 dough into greased and floured baking pan. Pour or spread jam over, about 1/3 inch thick. Add a few tablespoons flour to remaining 1/3 of dough, then roll out dough on floured surface. Cut into long strips and apply lattice to top of tart. 375-degree oven for 25-30 min. (pictures include: Plum Jam Tart and Peach Jam Tart).
Tiramisu
serves 8.
500 grams Mascarpone (quality) 5 egg yolks (fresh, organic) 5 heaping spoons sugar (eyeball it—mine were probably Tablespoons) espresso (I added a little liquor to my espresso: brandy, rum or Grand Marnier) Pavesini Biscuits OR ladyfinger cookies, enough for two single layers bittersweet chocolate sprinkles/powder (I shaved bittersweet chocolate over mine—make sure it is 70% bittersweet, the contrast is worth it)
Whisk yolks and sugar until it becomes creamy (and you can no longer feel grains of sugar; I whisk about 5-8 min). Add mascarpone and whisk until smooth and light (if it is good mascarpone it will blend nicely without pebbles/chunks). Make espresso (add liquor if desired). Very quickly dip biscuits/ladyfingers in and out of espresso. In bowl or serving dish (think about an 8×8 square or round/oval equivalent) place one layer of biscuits, followed by layer of mascarpone mixture. Repeat. Sprinkle with chocolate and chill in fridge for 2 hours or overnight. (I just spooned out portions into bowls for serving).
*this cookbook was produced for DaVinci Wines; they kindly sponsored a trip to Vinci, Italy for 4 Storytellers---I was the 'Culinary Storyteller.' While I was not paid to go on the trip (well in experience "dollars" YES!), DaVinci Wines paid for the trip. Yet as is always the case: all opinions, recipes and insights are my own.