Full on Oregon Day 1.
And by Day 1, I mean Day 1 of 3. (technically: it was Sept 8).
'Full on Oregon' was a food-centric, Oregon-forward weekend dotted by new foodie friends, exciting outings, brilliant food, cocktails and wine. Throw in a few gastronomic 'classes' and you have a rough idea of this unbelievable weekend.
Thank you Travel Oregon.
We stayed at Hotel DeLuxe... which SO reminded me of the Tower of Terrors Disneyland. As soon as I was in my room I Googled it, to see if the 'ride' was fashioned after this very hotel. It was in fact the same Hollywood era but not exact hotel; the decor includes classic, black & white photos of Hollywood actors. You do feel a bit famous, just staying there---I even overheard the clerk answer the phone: "delivering glamor---this is Hotel DeLuxe." Kinda makes you want to call, doesn't it?
The rooms were on the smaller side, but well-appointed and the bed comfortable. You can order up a pillow to your liking. I could personally care less about the room size and more about the bed. (I remember some very large hotel rooms from our cycling trip: large rooms and awful beds). Here, I slept in splendor.
Thank you Hotel DeLuxe.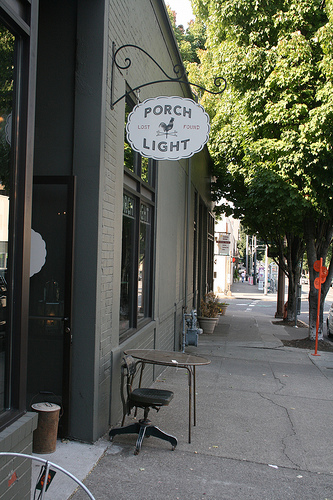 After settling into the hotel, I had about 2 hours to waltz around Portland's Pearl District. Just enough time to smile at the plot of food trucks and order up some Thai curry... After which I walked through the very famous Powell's bookstore, just for the sake of saying 'I walked through...' And because I have been meaning too---and I like to pick up travel-associated souvenirs---I picked up a copy of Becky Selenguts' Good Fish. My nose is in it frequently; it makes buying, eating and preparing fish downright accessible.
I found one other little shop that I loved called Porch Light. It was fashioned after my heart: found, farm-like objects. Re-purposed and 'forgotten' yummies of old. Old cricket containers turned into hanging lanterns, old rusty carts and jars, window frames and crates, rusty gears and whimsical decorum. Or maybe they just had me at the sign: Porch Light (love that inadvertent backdoor invitation) with a rooster/weather vane. I HAD to go in.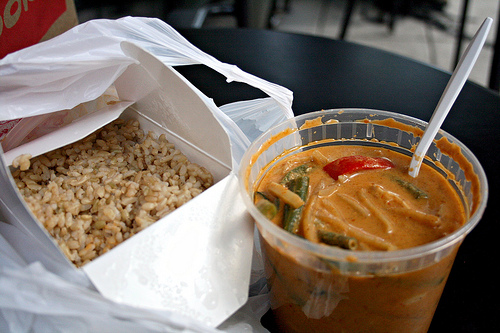 I whizzed back to the hotel after dilly-dallying a bit too long, hopped in the shower then jettisoned down to the hotel lobby for a meet and greet. I happily met folks from Travel Oregon, sponsors of this brilliant food & wine weekend.* I love all manner of food-frolics; this opportunity to meet a pile of vendors, chefs, fellow food bloggers and photographers extraordinaire was inspiring. Places to go? People to see? Things to do? I wouldn't have wanted to be anywhere else.
Hello new friends.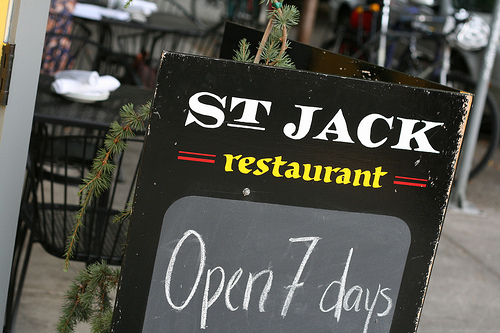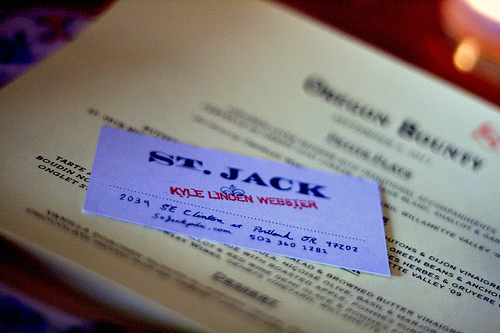 We grabbed a few elbows and were whisked off to some of the hottest new restaurant spots in town: St. Jack (you had me at 'liver pate'), Little Bird Bistro (2011 James Beard Rising Star Chef Gabe Rucker), Aviary (a la farm to table) and Ping (Asian street food gone upscale and local all at the same time). It's a brilliant short list for your next visit to Portland.
Any of those restaurants were a top-shelf win; I loved eating at St. Jack. The food, the innovative cocktails, local wine and especially the company---cheryl, andrew, leela, gwen, stacey, shanna---started my tumble down the 'I love Oregon' slope.
* disclosure: everything was paid for by Travel Oregon, our sponsors.